Material And Care
Find out more in details our materials used and tips to care for your jewellery.
Understanding
Materials
Our jewellery are made of 925 sterling silver as the base metal.
Sterling Silver is regarded as precious metal with true value and it is well like for its soft lustre and elegant finishing.

To deliver our finest quality, our jewellery are added with a finishing e-coating to ensure it is long lasting.
Gold Plated on Sterling Silver
Our gold plated pieces are plated with 2 to 2.5 micron thick 14/18K gold plating.
Our thicker than usual plating gives our jewellery a nice lustre shine that last. Each piece is e-coated with a protective layer to enhance durability.

Our jewellery are nickel and lead free, making it suitable for sensitive skin.
Champagne Gold
Unlike the traditional yellow gold , our gold plating is specially fine-tune to unveil a pinkish hue and a lighter gold.
The finishing looks modern and luxe, complementing all skin tones exceptionally well.
Rhodium Plated on Sterling Silver
Rhodium is a rare element that is highly tarnish resistant.
Our rhodium plated sterling silver piece gives off a subtle shine and made to last with daily wear.
Each piece is e-coated with a protective layer to enhance durability.

Our jewellery are nickel and lead free, making it suitable for sensitive skin.
Gemstones and Cubic Zirconia
Most of our pieces are crafted with intricate designs that include natural gemstones , cubic zirconia, crystals.
Each natural stone is unique on its own and varies slightly in colour, shapes, luminosity.
Slight imperfections (uneven texture/dark spots) may be present on the stone. This is the organic charm of natural stone and is not considered as defect.

TIPS: Avoid submerging gemstones and crystals in water as doing so will result in lost. of lustre and clarity.
18K (champagne) gold plated on sterling silver, exuding a luxe look and complement well on every skin tone.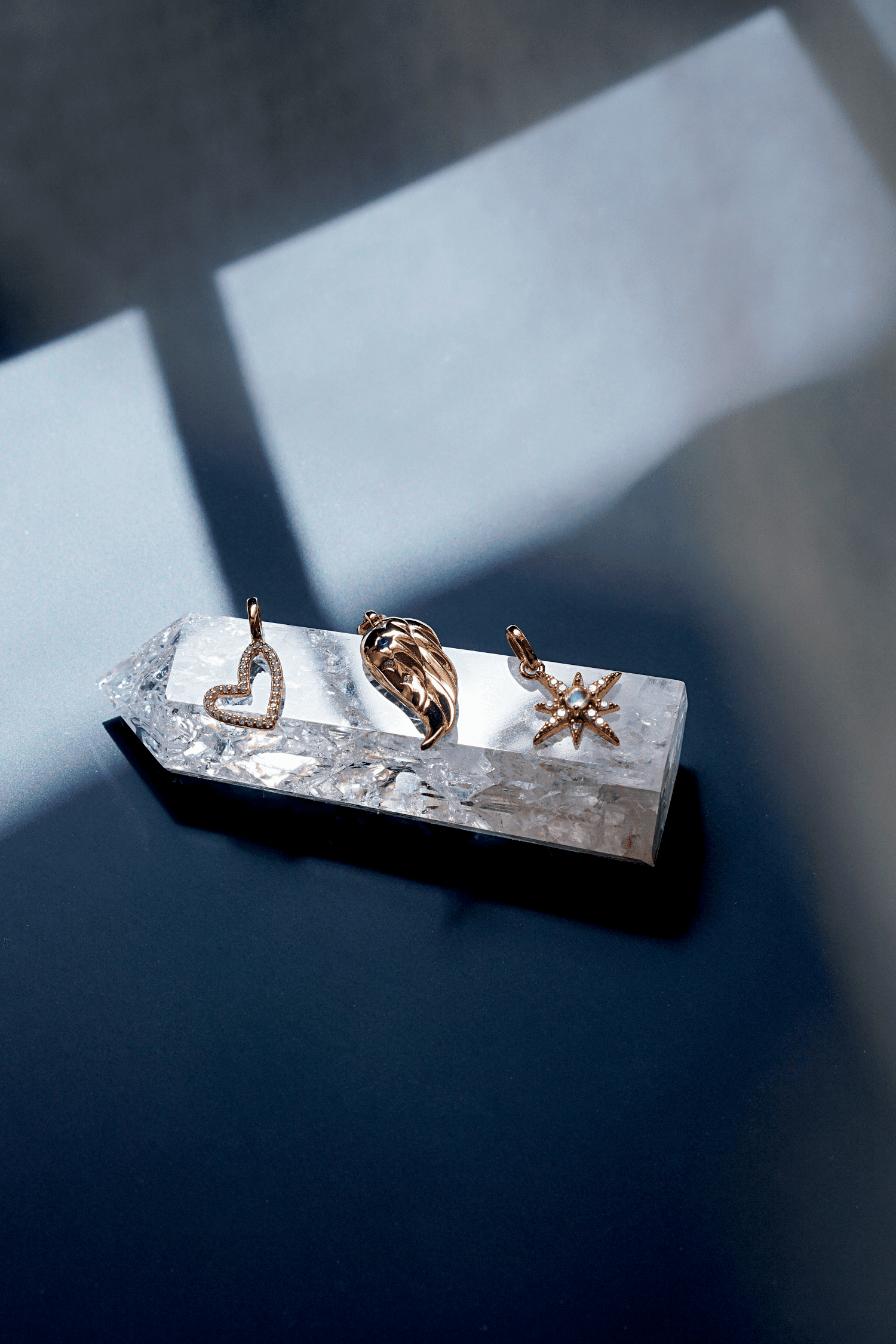 Adding crystals and gemstones makes every jewellery looks exceptionally fine and stunning.
Understanding
JEWELLERY CARE
Maintenance and proper jewellery care ensures your jewellery longevity.
Here are some tips to keep your jewellery from tarnishing and last a long time.
Jewellery Care Guide
- Remove before shower, exercise, sleeping to prevent snagging the chains by accident
- Avoid direct contact with perfumes and chemical such as detergents, body lotions, etc.
- Avoid excessive friction on jewellery surface
- Wash it with mild soap and clean it dry thoroughly before storing it
- Place it in a sealed bag when not wearing
- Avoid exposure to humidity
FAQs on Jewellery Material and Care
Does plated jewellery tarnish?
Plated jewellery is made with a layer of gold/rhodium coated on the surface of a base metal ie. sterling silver.
Any plated jewellery will eventually fade and tarnish over a period of time and wear.

However, by practising proper jewellery care, plated jewellery can last a very long time too.
How long can the plating last?
All plated jewellery eventually fade/tarnish due to natural wear and tear over a period of time.
The lifespan of the jewellery also vary from individual wear and skin acidity.

The thickness of the plating plays a big part in enhancing the durability of the jewellery.

Mienlabel jewellery are minimally 2-micron thick plated with additional protective e-coating that forms a barrier between the plating and skin.
(Most jewellery in the market are only 0.1-0.8 micron plated.)

Hence, we are assured that our jewellery piece are able to last for years, with proper jewellery care.


Can I re-plate my jewellery?
Unfortunately, we do not offer re-plating service at the moment.