OVAL BIRTH FLOWER NECKLACE (CLASSIC) –– GOLD
Bloom wherever you go.

The birth flower collection celebrates your uniqueness and bloom — a beautiful process of becoming. 
Each birth flower represents a unique message and meaning, making it a perfect daily reminder to receive goodness and living to your purpose.

_______________
Birth Flowers:
Carnation (Jan) — admiration, love, hope, rebirth
Violet (Feb) — modesty, faithfulness, passionate young love
Daffodil (Mar) — new beginnings, abundance, renewing energy, hope
Daisy (Apr) — purity, innocence, true love and simplicity
Lily of the valley (May) — happiness, joy, hope, motherhood
Rose (Jun) — romance, devotion, love, happiness
Water lily (Jul) — purity, dignity, positivity, patience
Poppy (Aug) — resilience, strength, hope
Morning glory (Sep) — affection, unrequited love, joy 
Cosmos (Oct) — balance, peace, harmony
Chrysanthemum (Nov) — loyalty, longevity, honesty, fidelity
Narcissus (Dec) — protection, good wishes, hope, good wealth


This design is also available in silver and rose gold.

Product Details
Material: PVD Gold Plated 316L Stainless Steel
Made with thicker plating and e-coating to increase lifespan of jewellery


Measurements
• Pendant: 20mm
• Adjustable Length: 15-17" / 17-19" /19-21"

Customisation
Complimentary Engraving (Optional)
• Position: back of the tag only
• Up to 4 characters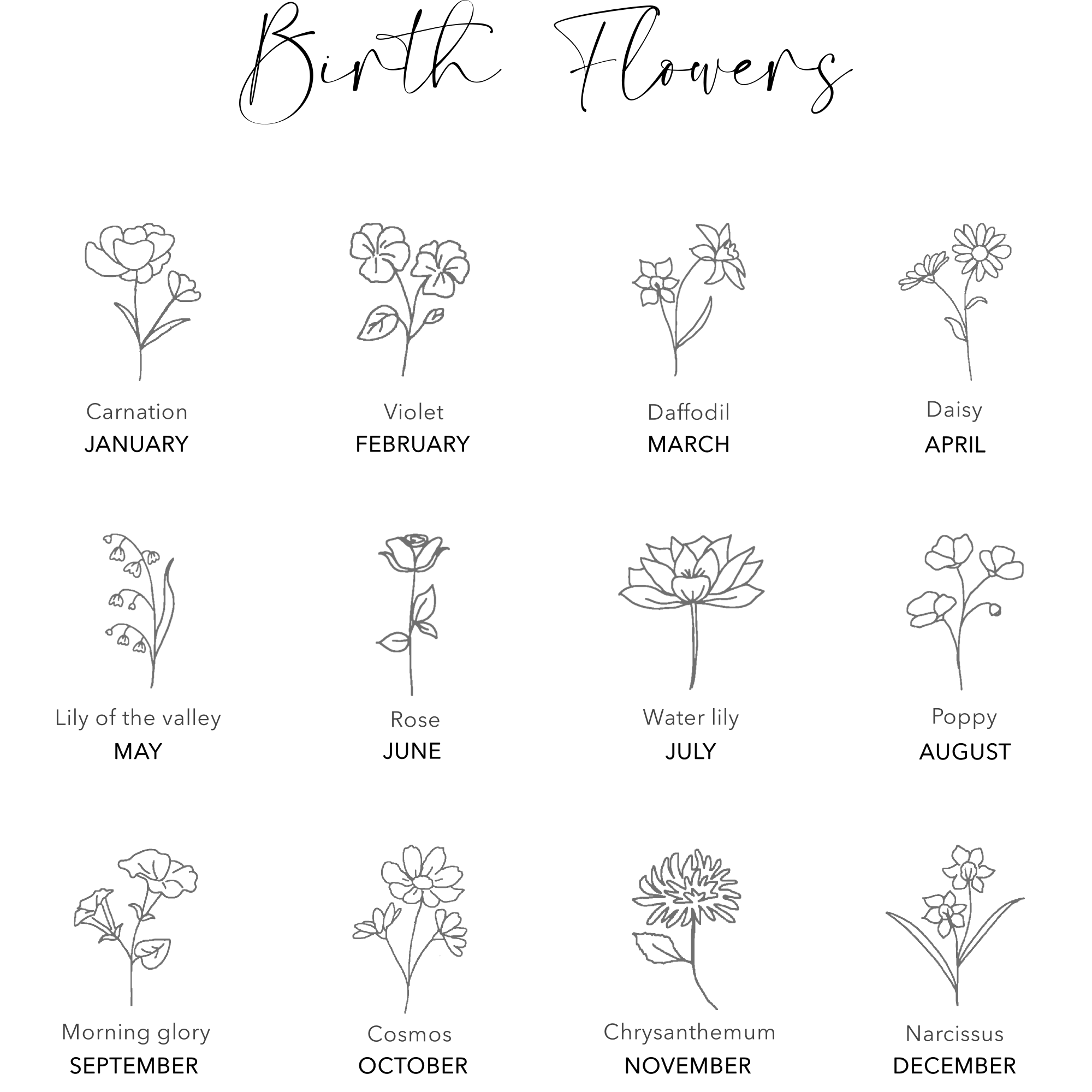 Shipping & Info
Handmade takes time.
Our production turnaround time ~ 5 business days.
Gift wrapping: Complimentary Mienlabel Gift Box
Shipping:
• Local (Singapore): SGD3.50
Enjoy complimentary shipping for orders above SGD80
• Ships Internationally
International shipping fees vary from countries *calculate at checkout
Returns & Warranty
Returns:
• All cusomised items are final sale and non exchangeable/refundable.
• Item that is eligible for return is processed via store credits

Warranty:
We offer a 30-days warranty period from date of purchase.
• Wear and tear/fading of plating is not covered under warranty.
Please refer here for detailed information on returns, replacements and repairs.